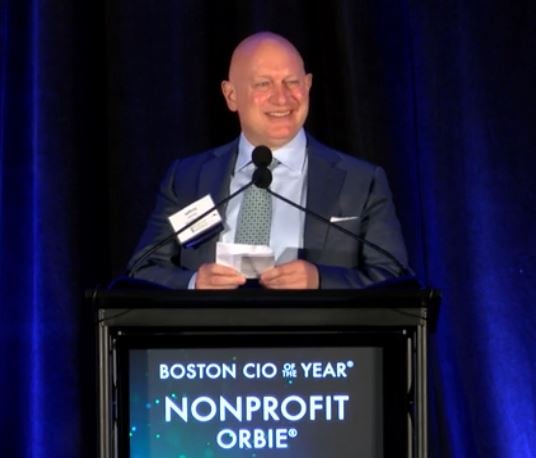 The Boston CIO Leadership Association (BostonCIO) is an organization the Markley Group is proud to be a founding underwriter of. By bringing together New England's top chief information officers and leading information technology executives from public and private companies, government, education and non-profit organizations, the association has built an unparalleled professional community. As such, BostonCIO strives to deliver a forum for CIOs that encourages the sharing of ideas, best practices and experiences, and supports the discussion of issues-based topics to facilitate growth and learning among peers.
In addition to the great work that the group does for its members year-round, BostonCIO also takes great pride in its annual Boston CIO of the Year Awards program, which honors leading CIOs across five categories – Global, Enterprise, Corporate, Non-profit / Public Sector, and a special Leadership Award – who have demonstrated excellence in technology leadership.
The 2016 award gala was held earlier this month on June 2nd, and hundreds came together to recognize and celebrate the region's leading technology executives. As an underwriter of the association and the award program, Markley Group's CEO, Jeff Markley, was asked to present the award to the night's Non-profit / Public Sector winner. The honor went to Marilyn Daly, CIO and VP of Operations at Neighborhood Health Plan, who was nominated alongside an impressive and equally-deserving group of executives including: Joel Jacobs, CIO and VP at MITRE; Dan Moriarty, CIO at Atrius Health; Debra Orr, CIO at Simmons College; and Mark Staples, VP and CIO at Wentworth Institute of Technology.
All of the finalists in the Boston CIO of the Year Awards were selected for their achievements and dedication to IT innovation, leadership and business effectiveness. Markley Group was honored to be a part of the night's celebrations and look forward to supporting this impressive association and award program in the future. For more information on joining the association or submitting a worthy CIO for next year's Boston CIO of the Year Awards program, go to http://bostoncio.org/.