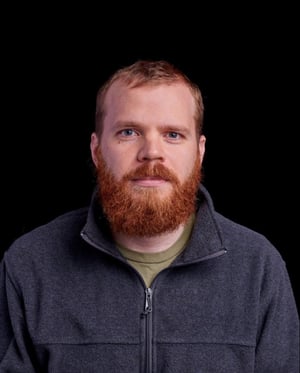 The saying 'a company is only as good as its people,' is taken pretty seriously here at Markley. Innovative technology, large data center spaces, and reliable service are important but can only get a company so far. It's the talented and motivated people working at Markley that truly propel us above and beyond. We are proud to introduce Leigh Hennig: woodworker, horror book author, and most importantly, Markley's new Principal Network Architect.
Leigh is a graduate of the Rochester Institute of Technology and most recently worked at AWS on the Direct Connect team. Coming from an extensive background in networking, cloud architectures, and large-scale computing, Leigh is excited to build Markley's next-generation connectivity and cloud infrastructure as well as help customers design their networks for scale and automation.
I recently sat down with Leigh to get to know him better and find out what makes him tick.
Why Markley? What industry trends drew you here?
Markley is privately held and doesn't have to answer to outside investors when considering how to serve our customers and position ourselves for the future. Companies like AWS and Microsoft are dominant in the cloud environment, but on the whole, these technologies are still in their infancy. There's a tremendous amount of space available to Markley to innovate, and getting in on the ground is an exciting opportunity to have. Markley doesn't have to compete with these massive cloud companies to offer unique value to our customers. We can embrace available technologies and exploit our own innate agility to find those niches that remain to be filled. We have a world-class data center infrastructure. Plus, the enormous networking bandwidth and rich telecom partner ecosystem we have available to us are huge advantages.
What goals do you hope to achieve at Markley?
I'd like to see our cloud offerings, as well as our technology services, become bar-raising among companies in similar spaces. Markley sits at the epicenter of New England's telecom and technology communities, which provides us a great opportunity to lead and influence the next generation of innovation. We have a whole lot of experience in how computing infrastructure, data stores, and network bandwidth need to be aligned for the next generation of cloud-based applications. Eventually, I'd be proud to see Markley become a household name when it comes to helping customers operate at scale.
How does Markley's vision fit with your own?
I'm all about customer obsession, doing the right thing, and not sacrificing quality for speed. I'm very selective about the projects I take on and the places I work, and when speaking with the folks at Markley, it was clear the corporate culture was aligned with my own. I don't want to be a cog in a wheel, and I don't want to go somewhere with a mandate but without the resources or support of senior leadership to accomplish those goals. Don't ask me to build a bridge but refuse me a shovel, right? At Markley, that's not an issue.
How did your previous experiences prepare you for your new journey? What do you think you can bring to Markley?
I was one of the original members of the AWS Direct Connect team. We grew that service from only a handful of PoPs and three people in Seattle to over a hundred locations globally, with a diverse team, spread across four different continents. We supported the most highly visible, highly impactful projects for the world's largest and most demanding customers. So not only did I learn a lot about operating at scale and what that really means, but I learned a lot about what it takes to build, deploy, and maintain a mission-critical service from the ground up. I also understand the cultural challenges that come with developing the kind of organization necessary to support such far-reaching objectives.
What do you enjoy doing when you are not at work?
Well, I am pretty obsessive about soccer - Go Arsenal! - and am big into running, cycling, and sailing. I went to the University of Washington's MFA in Creative Writing & Poetics program and do a lot of writing when I can. I have also taught a series of classes on horror in literature with the King County Library System in Seattle. I have a novel with an agent at the moment, and that looks pretty promising--let's hope it goes somewhere! I was also a speaker at this year's StokerCon in Grand Rapids, MI, so if you're a fan of horror, let's chat! Finally, I love whiskey, craft beer, and woodworking.